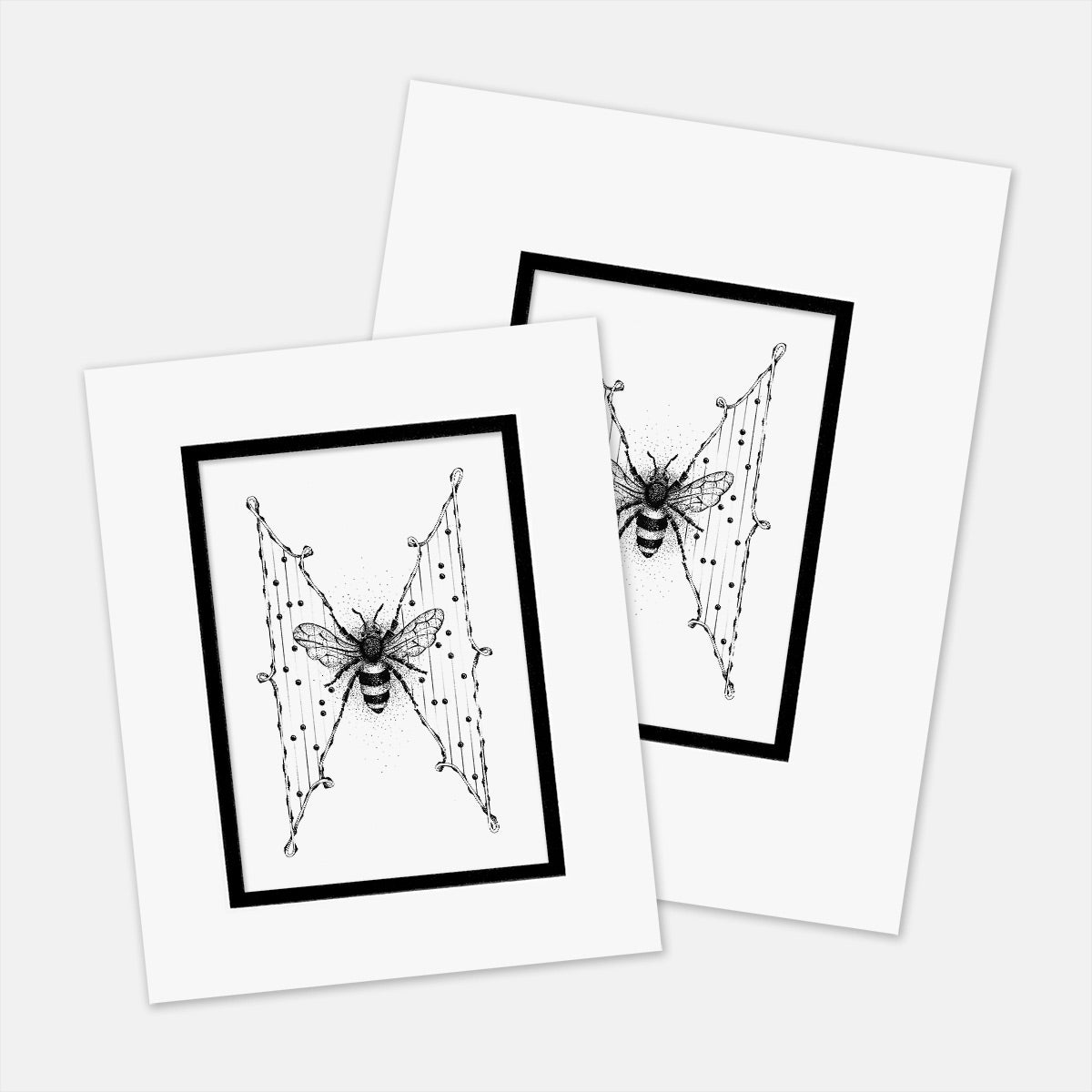 "A Pollinated Path"
Print or Original?:
Limited Edition Print
Only 40 units left
Prints: Limited edition of 50
About The Artwork:
Introducing "A Pollinated Path" - a black and white illustration capturing nature's essence and progress. Featuring the symbols of a bee and either an abacus or a harp, this piece evokes ideas of motion, purpose, and growth. 

The bee has long been a beloved symbol of nature and progress. As an ancient symbol of industry and purpose, the bee perfectly represents how we can use our skills and talents to create something beautiful that will benefit others. It can produce honey, providing necessary sustenance for many creatures while pollinating flowers and helping sustain life on Earth. The bee also conveys ideas of hard work and dedication; it tirelessly works to bring its loved ones what they need, going the extra mile with no thought of reward.

A harp symbolizes beauty, grace, and harmony that can bring peace to those who listen. The abacus represents mathematical knowledge and understanding, providing insight through organization and structure. Both symbols evoke ideas of creativity, wisdom, and balance - qualities that have helped us throughout history and continue to inspire us today.

Combining these symbols can be seen as a representation of creativity in action. Having both imagination and strong analytical skills is essential to achieve success. 
"Life is not what you alone make it. Life is the input of everyone who touched your life and every experience that entered it. We are all part of one another." — Yuri Kochiyama
"To me it has to do with time and the path. Strength & persistence, but peace." — Christin, Omaha
Illustration Size: 
5 x 7 inches (portrait)
7 x 5 inches (landscape)
Mat Board Size:
Original Artwork: Mat board will fit an 11 x 14 inch frame. 
Limited Edition Print: Mat board will fit an 8 x 10 inch frame.
Both limited edition prints & original artwork are protected by a double layered, high quality, acid-free Crescent® brand mat board (4-ply, approximately .050 inch thick, with a beveled cut window opening). The mat board has a white top layer with a visible black layer underneath. For added protection artwork gets shipped with a standard white backing board, enclosed in a clear protective bag. Frame shown in product images not included.
Medium:

 
Original Artwork: Pigment archival ink on cold press acid free 300gsm paper.
Limited Edition Print: Superior quality digital print on 100% fine art cotton, acid free paper.
Authenticity: 
All Policies: