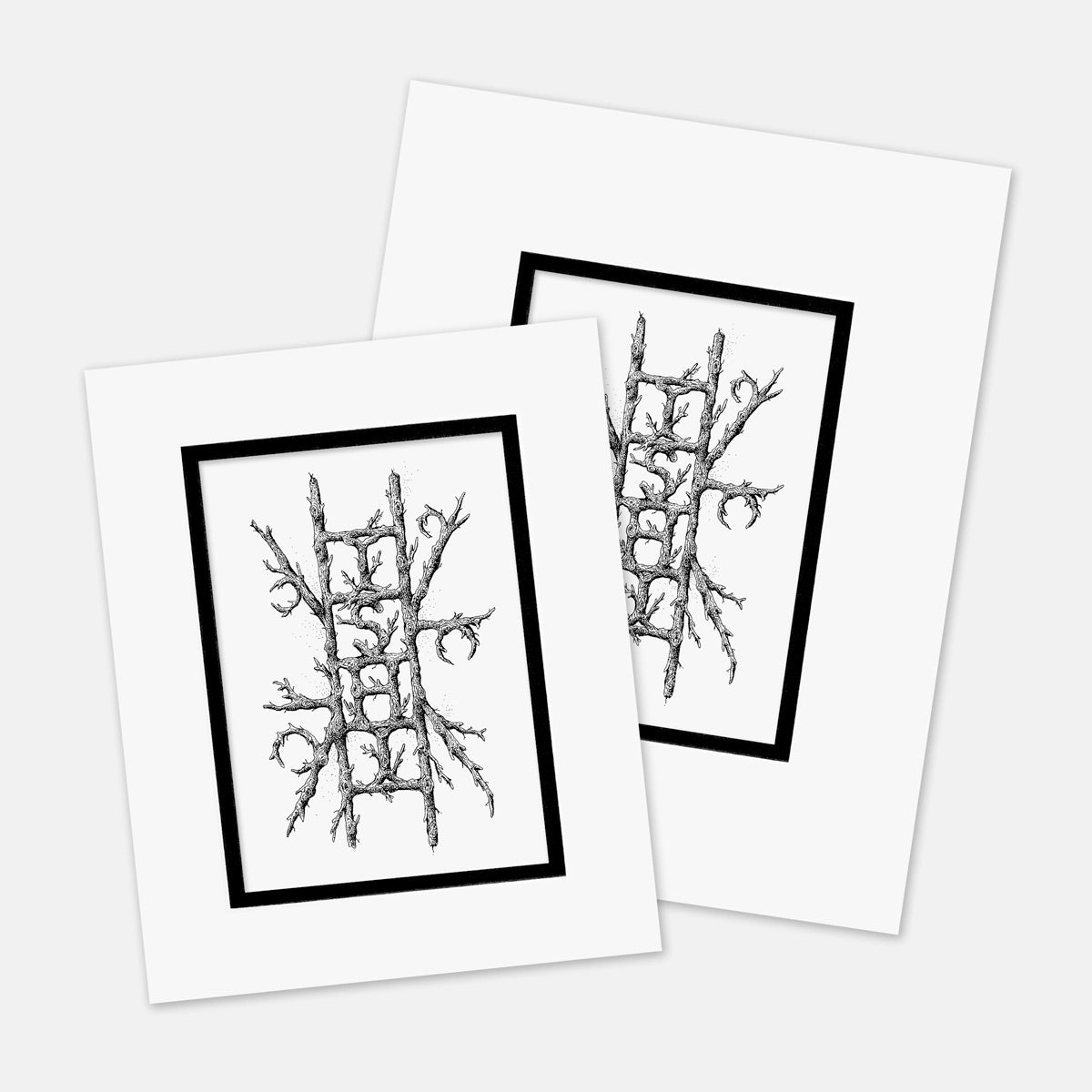 "Ishi"
Print Or Original?:
Limited Edition Print
Only 8 units left
Prints: Limited edition of 10
About The Artwork:
Introducing 'ISHI,' an interesting black-and-white illustration featuring the word ISHI spelled with branches.

Ishi is a word that can have different meanings depending on the context and the language in which it is being used. While in Japanese, Ishi usually means "stone" or "rock, which can represent strength, durability, and resilience. "Ishi" can also symbolize the earth, the natural world, and the importance of staying grounded and connected to our roots. In Hebrew, "Ishi" is a word that means "my husband." It is used in the Bible in the book of Hosea, where it is used to symbolize God's relationship with the people of Israel. "Ishi" in this context represents the intimate and loving relationship between God and his people.

Branches and wood are powerful symbols deeply rooted in many cultures and traditions. They can represent growth, flexibility, and the cyclical nature of life. The different qualities of wood and branches can also convey different meanings, such as oak's strength and durability or bamboo's flexibility and versatility.

When combined, the symbolism of "ishi," branches, and wood can represent the importance of staying grounded and connected to our roots.
"Nothing in or of this world measures up to the simple pleasure of experiencing the presence of God." — Aiden Wilson Tozer
Illustration Size: 
5 x 7 inches (portrait)
7 x 5 inches (landscape)
Mat Board Size:
Original Artwork: Mat board will fit an 11 x 14 inch frame. 
Limited Edition Print: Mat board will fit an 8 x 10 inch frame.
Both limited edition prints & original artwork are protected by a double layered, high quality, acid-free Crescent® brand mat board (4-ply, approximately .050 inch thick, with a beveled cut window opening). The mat board has a white top layer with a visible black layer underneath. For added protection artwork gets shipped with a standard white backing board, enclosed in a clear protective bag. Frame shown in product images not included.
Medium:

 
Original Artwork: Pigment archival ink on cold press acid free 300gsm paper.
Limited Edition Print: Superior quality digital print on 100% fine art cotton, acid free paper.
Authenticity: 
All Policies: