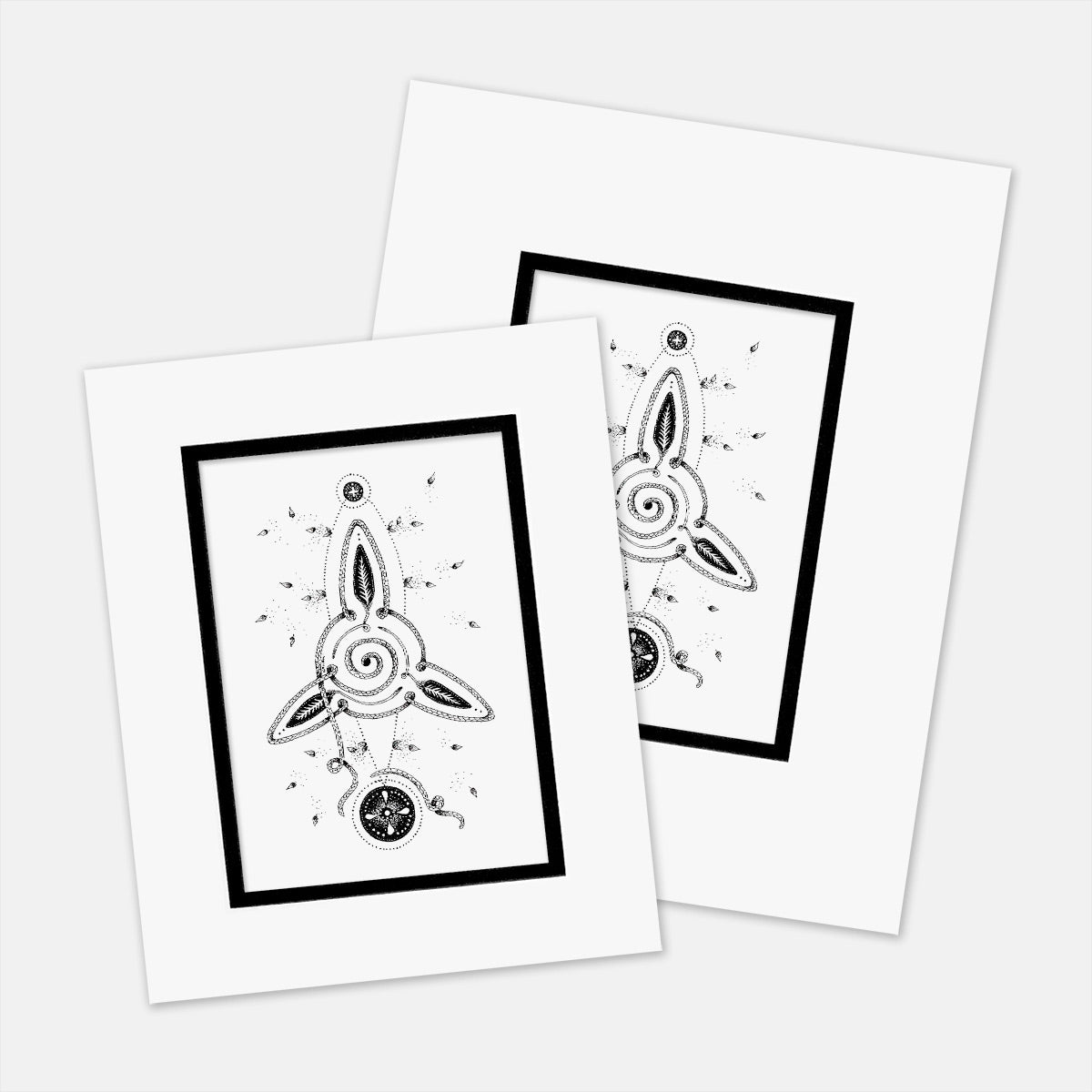 "A Delicate Balance"
Print Or Original?:
Limited Edition Print
Only 9 units left
Prints: Limited edition of 10
About The Artwork: 
A black and white abstract illustration containing leaves, feathers, and rope in an interesting composition. This piece is named "A Delicate Balance."

The feather has been used throughout history to represent many things, from freedom and flight to peace and courage. Leaves are often used to symbolize growth and renewal—they can be a reminder that life is ever-changing and that there is always hope for a better tomorrow. And the rope is a powerful metaphor for strength and union, but it can also suggest restraint or restriction.

Together in this illustration, these three elements create an image of delicate balance – something that ebbs and flows between growth and freedom on one side and constriction and limitation on the other. It's a reminder that life is a balancing act and that sometimes the most powerful thing we can do is to stay grounded. No matter how turbulent our environment may be, this piece reminds us that there is beauty in finding harmony amidst the chaos.

Regardless of where you hang it or what emotions it stirs up in you when you look at it, "A Delicate Balance" is sure to be an inspiring and thought-provoking piece for any art lover.
"Somehow, we'll find it. The balance between whom we wish to be and whom we need to be. But for now, we simply have to be satisfied with who we are." ― Brandon Sanderson
Illustration Size: 
5 x 7 inches (portrait)
7 x 5 inches (landscape)
Mat Board Size:
Original Artwork: Mat board will fit an 11 x 14 inch frame. 
Limited Edition Print: Mat board will fit an 8 x 10 inch frame.
Both limited edition prints & original artwork are protected by a double layered, high quality, acid-free Crescent® brand mat board (4-ply, approximately .050 inch thick, with a beveled cut window opening). The mat board has a white top layer with a visible black layer underneath. For added protection artwork gets shipped with a standard white backing board, enclosed in a clear protective bag. Frame shown in product images not included.
Medium:

 
Original Artwork: Pigment archival ink on cold press acid free 300gsm paper.
Limited Edition Print: Superior quality digital print on 100% fine art cotton, acid free paper.
Authenticity: 
All Policies: