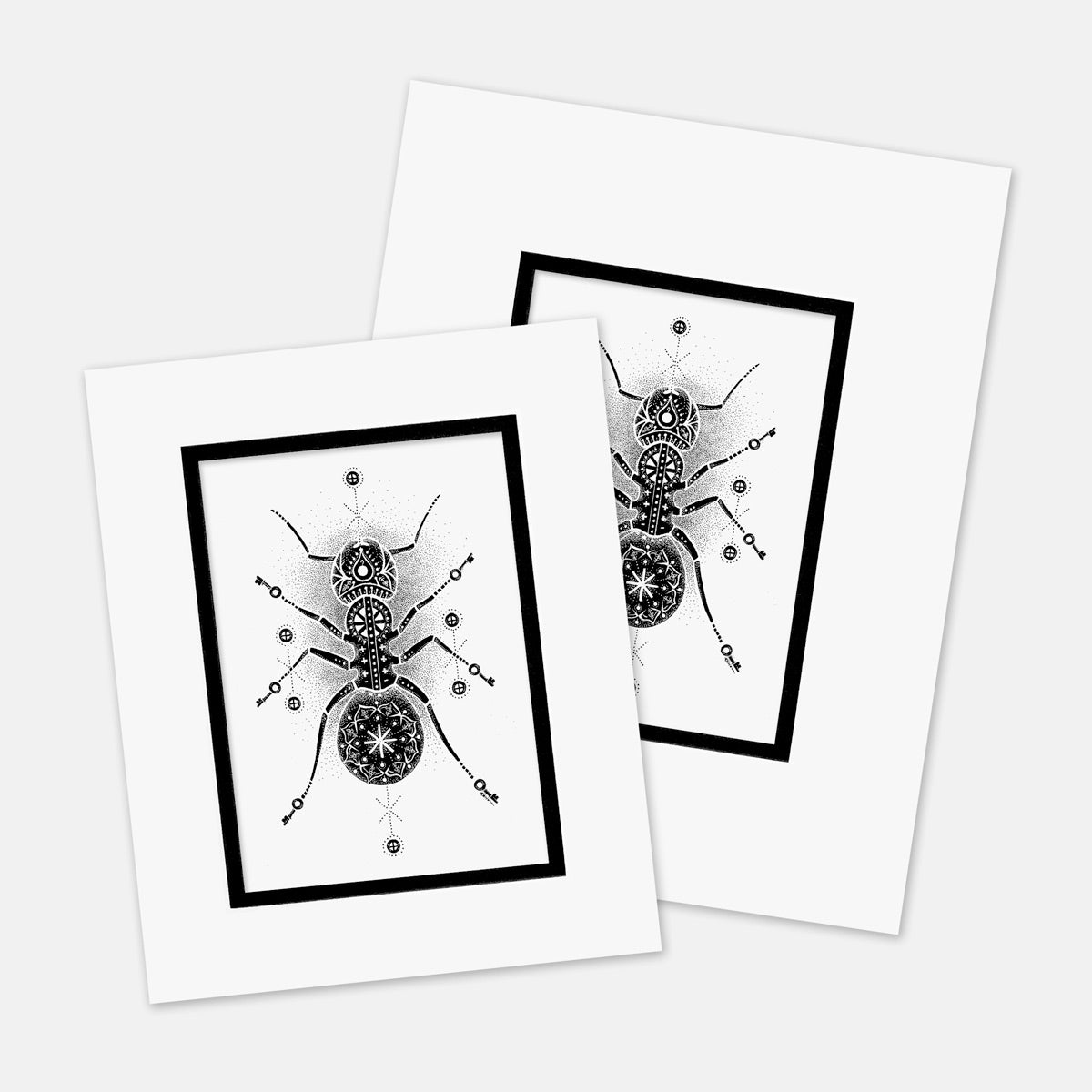 "ANT-icipation"
Print Or Original?:
Limited Edition Print
Only 17 units left
Prints: Limited edition of 25
About The Artwork: 
Introducing "ANT-icipation"! This black-and-white illustration captures the intricate details of a single ant, covered in beautiful patterns, with keys for feet. The unique design of this piece adds a sense of whimsy and delight to any home or office.

The ant, often symbolic of hard work and determination, has been captured in this artwork in a way that honors its dynamic spirit. Representing the importance of perseverance and resilience, "ANT-icipation" highlights the never-ending will to succeed.

Keys are often seen as symbols of unlocking potential and finding the inner strength to achieve success. They can be associated with opening up new opportunities and taking risks that could lead to great rewards.

By combining a symbol of resilience (the ant) with a symbol of unlocking potential (the keys), this artwork conveys a powerful message about striving for greatness and achieving success! 
"Well," said Pooh, "what I like best," and then he had to stop and think. Because although Eating Honey was a very good thing to do, there was a moment just before you began to eat it which was better than when you were, but he didn't know what it was called." ― A. A. Milne, Winnie-the-Pooh
Illustration Size: 
5 x 7 inches (portrait)
7 x 5 inches (landscape)
Mat Board Size:
Original Artwork: Mat board will fit an 11 x 14 inch frame. 
Limited Edition Print: Mat board will fit an 8 x 10 inch frame.
Both limited edition prints & original artwork are protected by a double layered, high quality, acid-free Crescent® brand mat board (4-ply, approximately .050 inch thick, with a beveled cut window opening). The mat board has a white top layer with a visible black layer underneath. For added protection artwork gets shipped with a standard white backing board, enclosed in a clear protective bag. Frame shown in product images not included.
Medium:

 
Original Artwork: Pigment archival ink on cold press acid free 300gsm paper.
Limited Edition Print: Superior quality digital print on 100% fine art cotton, acid free paper.
Authenticity: 
All Policies: