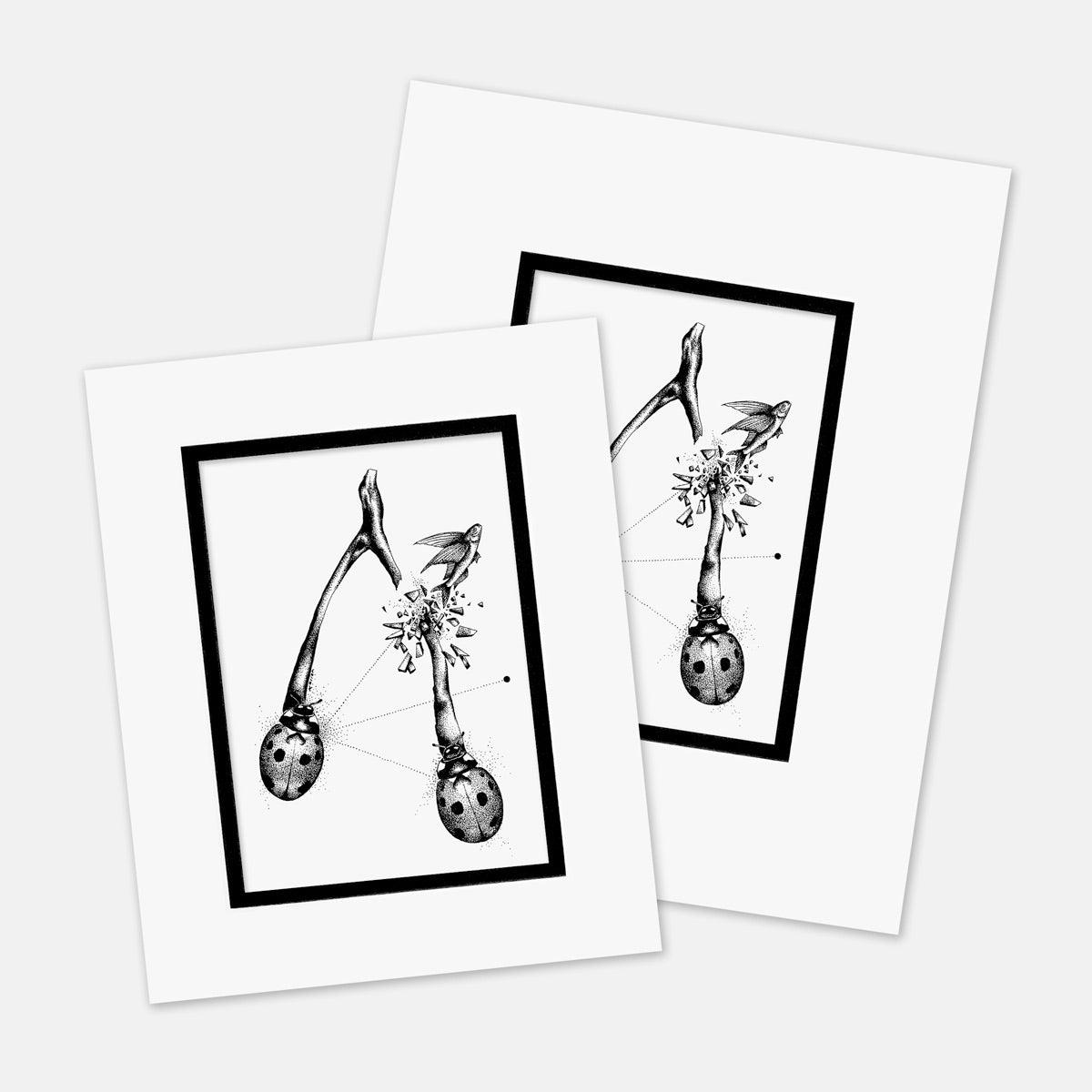 "As Luck Would Have It"
Print Or Original?:
Limited Edition Print
Only 23 units left
Prints: Limited edition of 25
About The Artwork: 
"As Luck Would Have It" offers an imaginative and captivating exploration of lucky symbols in art. With black-and-white imagery featuring ladybugs, a wishing bone, and a flying fish, this illustration takes viewers on a journey through luck and chance - allowing them to unlock their hidden potentialities.

The ladybug has long been seen as a symbol of luck and good fortune. Its vibrant, colorful wings have made it an iconic representation of joy and serendipity - often seen as a token of hope in difficult times. 

The wishing bone is another popular symbol of luck in many cultures. It is believed that if you make a wish while holding a wishing bone, it will come true - providing the opportunity to manifest your dreams into reality.

Lastly, the flying fish symbolizes fortune and abundance. It is associated with wealth and prosperity, as it is said to bring those who see it good luck and peace. Its delicate wings have a mystical, magical aura - allowing us to explore the intrigue of serendipity in our lives.

"I wandered everywhere, through cities and countries wide. And everywhere I went, the world was on my side."
― Roman Payne
Illustration Size: 
5 x 7 inches (portrait)
7 x 5 inches (landscape)
Mat Board Size:
Original Artwork: Mat board will fit an 11 x 14 inch frame. 
Limited Edition Print: Mat board will fit an 8 x 10 inch frame.
Both limited edition prints & original artwork are protected by a double layered, high quality, acid-free Crescent® brand mat board (4-ply, approximately .050 inch thick, with a beveled cut window opening). The mat board has a white top layer with a visible black layer underneath. For added protection artwork gets shipped with a standard white backing board, enclosed in a clear protective bag. Frame shown in product images not included.
Medium:

 
Original Artwork: Pigment archival ink on cold press acid free 300gsm paper.
Limited Edition Print: Superior quality digital print on 100% fine art cotton, acid free paper.
Authenticity: 
All Policies: