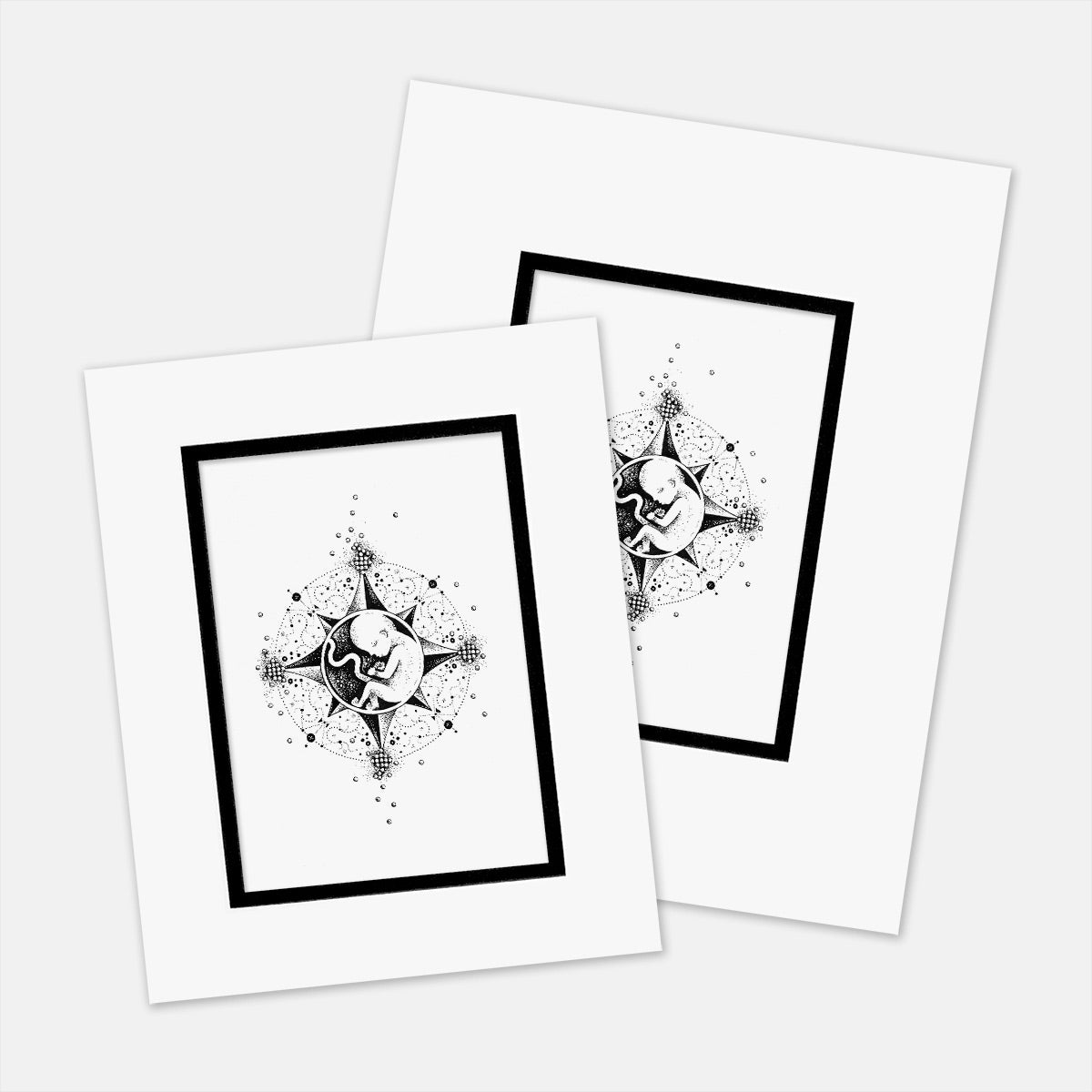 "Birth Of Potential"
Print Or Original?:
Limited Edition Print
Only 48 units left
Prints: Limited edition of 50
About The Artwork:
The black and white surreal illustration, "Birth Of Potential," represents the limitless possibilities that come with new beginnings. Featuring a baby's silhouette in utero surrounded by a compass, lots of beads, and constellations, this artwork speaks to the potential of what we can achieve when we set our sights on something more significant.

The baby is a primary symbol of potential and new beginnings. It serves as a reminder that everyone is born with the potential to achieve greatness, no matter how small or seemingly insignificant they may seem.

The compass is a symbol of guidance and direction. It stands as a reminder always to be mindful of our internal compass, and to stay true to ourselves and our values, even when faced with difficult decisions. The presence of the compass also speaks to the idea that we should always remember where we came from, even when striving towards something new.

The beads are a symbol of interconnectedness. They represent our shared experiences and how, even if we have different paths, we still have similarities that bind us. The presence of the beads also speaks to the idea that no one is alone in their struggles and that everyone has someone who can relate to and offer support.

The constellations in the "Birth Of Potential" illustration symbolize infinite possibilities. They remind us that we can create our destiny, and we should always remember to dream big and reach our highest potential.

I believe every human is born with the potential to do something special. Our journey through life is about discovering what this is and making the choices that lead to it. It can't be forced. It gently unfolds. This illustration shows something about the infinite possibilities available - the birth of potential.
"The potential of the average person is like a huge ocean unsailed, a new continent unexplored, a world of possibilities waiting to be released and channeled toward some great good. " ― Brian Tracy
"Jesus being born" — Mika, Omaha
Illustration Size: 
5 x 7 inches (portrait)
7 x 5 inches (landscape)
Mat Board Size:
Original Artwork: Mat board will fit an 11 x 14 inch frame. 
Limited Edition Print: Mat board will fit an 8 x 10 inch frame.
Both limited edition prints & original artwork are protected by a double layered, high quality, acid-free Crescent® brand mat board (4-ply, approximately .050 inch thick, with a beveled cut window opening). The mat board has a white top layer with a visible black layer underneath. For added protection artwork gets shipped with a standard white backing board, enclosed in a clear protective bag. Frame shown in product images not included.
Medium:

 
Original Artwork: Pigment archival ink on cold press acid free 300gsm paper.
Limited Edition Print: Superior quality digital print on 100% fine art cotton, acid free paper.
Authenticity: 
All Policies: