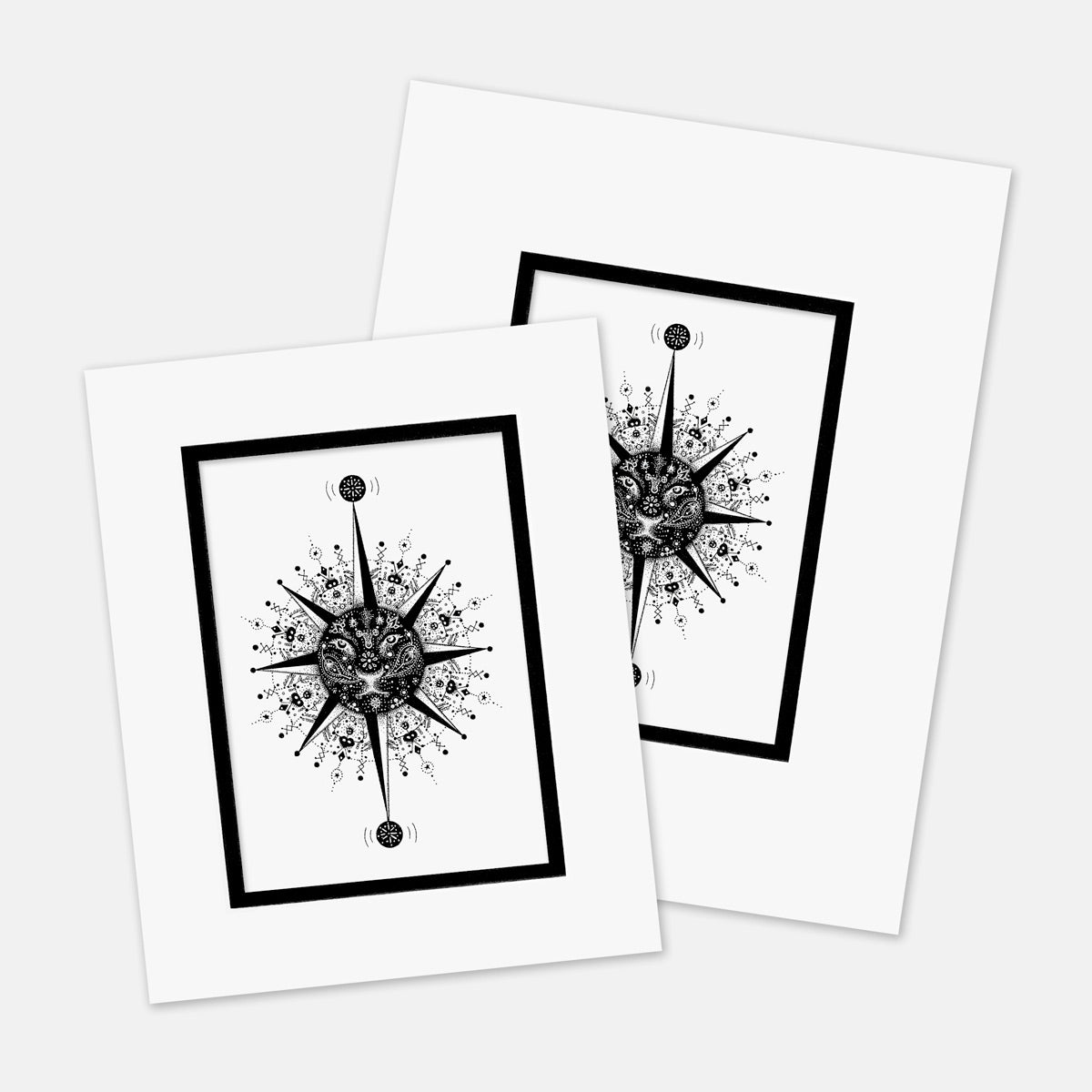 "Compass, Compassion, Passion"
Print Or Original?:
Limited Edition Print
Only 41 units left
Prints: Limited edition of 50
About The Artwork: 
Unveil a journey of self-discovery with "Compass, Compassion, Passion," an inspiring black-and-white illustration that combines striking symbols. At the center is a lioness surrounded by intricate patterns and signifying guidance from the compass bringer pointing to new beginnings. Let this meaningful artwork guide your path to personal growth and enlightenment!

In many cultures, the lioness is seen as a symbol of strength and power. She represents courage and resilience and embodies a spirit of dignity, grace, and nobility. This majestic creature is typically considered a symbol of royalty and leadership qualities; in Greek mythology, the great goddess Hera was often depicted with a lioness companion.

The compass symbolizes navigation and direction, guiding you through uncharted waters as you pursue new paths. With its majestic beauty and profound wisdom, this symbolic artwork encourages a lifelong exploration of the mysteries of life. Along the way, discover moments of passion and compassion that define who you are and uncover new depths of understanding and purpose. Let "Compass, Compassion, Passion" inspire you as you embark on self-discovery and personal growth.

Whether used as an aesthetic addition to your living space or as a source of motivation, "Compass, Compassion, Passion" is a stunning reminder that embracing the unknown can be the start of something beautiful.

"I would rather live in a world where my life is surrounded by mystery than live in a world so small that my mind could comprehend it." — Harry Emerson Fosdick
Illustration Size: 
5 x 7 inches (portrait)
7 x 5 inches (landscape)
Mat Board Size:
Original Artwork: Mat board will fit an 11 x 14 inch frame. 
Limited Edition Print: Mat board will fit an 8 x 10 inch frame.
Both limited edition prints & original artwork are protected by a double layered, high quality, acid-free Crescent® brand mat board (4-ply, approximately .050 inch thick, with a beveled cut window opening). The mat board has a white top layer with a visible black layer underneath. For added protection artwork gets shipped with a standard white backing board, enclosed in a clear protective bag. Frame shown in product images not included.
Medium:

 
Original Artwork: Pigment archival ink on cold press acid free 300gsm paper.
Limited Edition Print: Superior quality digital print on 100% fine art cotton, acid free paper.
Authenticity: 
All Policies: