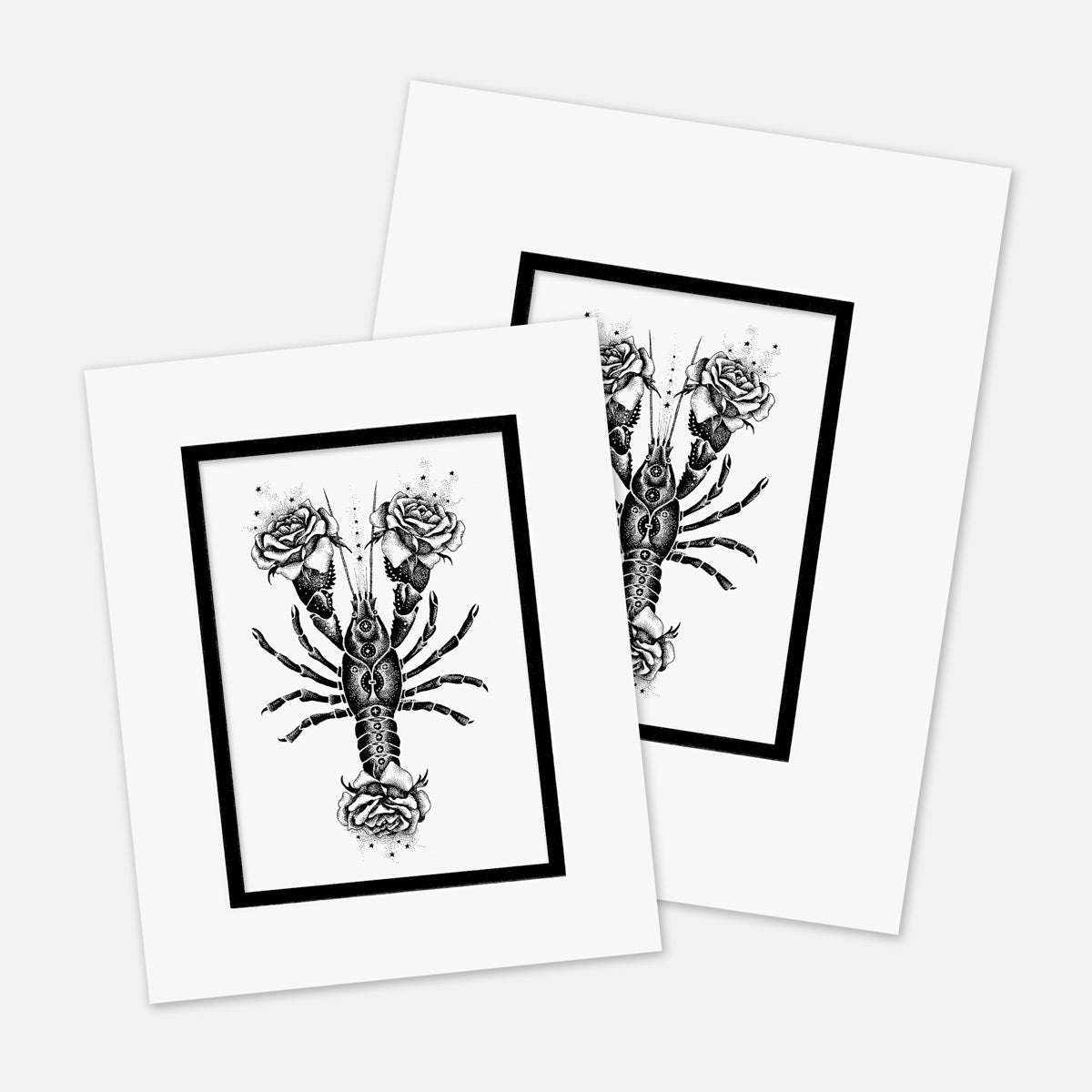 "Efflorescence"
Print Or Original?:
Limited Edition Print
Only 46 units left
Prints: Limited edition of 50
About The Artwork: 
Embrace the marriage of beauty and strength with "Efflorescence," a breathtaking black-and-white illustration featuring an iconic lobster adorned in delicate roses.

The lobster has been a timeless symbol of strength, endurance, and resilience. In ancient Greek mythology, the goddess Aphrodite was said to have been born from the sea, emerging from her bed in the form of a giant lobster. This mythological representation renders the lobster a powerful symbol of fertility and femininity.

The roses that adorn the lobster's pinchers and the tail are a timeless symbol of love and beauty in many cultures worldwide. It is a reminder of the delicacy and fragility of life, representing passion, new beginnings, joy, and femininity. In Ancient Greece, roses were associated with Aphrodite; in Ancient Rome, they were used to describe Venus.

This merger of symbols illustrates that even for something that appears delicate and fragile, strength lies beneath the surface. This beautiful piece is perfect for adding a touch of surrealism to your home or office decor.
"Be crumbled. So wild flowers will come up where you are. You have been stony for too many years. Try something different. Surrender." — Rumi
"A becoming is not a correspondence between relations. But neither is it a resemblance, an imitation, or, at the limit, an identification." (237) "God is a Lobster, or a double pincer, a double bind. Not only do strata come at least in pairs, but in a different way each stratum is double (it itself has several layers). Each stratum exhibits phenomena constitutive of double articulation." (40) "…There are double pincers everywhere on a stratum; everywhere and in all directions there are double binds and lobsters, a multiplicity of double articulations affecting both expression and content..." (45) …the Lobster has skin on its bones…(47) Deleuze and Guattari, A Thousand Plateaus (1980)" — Submitted by Abraham W.
Illustration Size: 
5 x 7 inches (portrait)
7 x 5 inches (landscape)
Mat Board Size:
Original Artwork: Mat board will fit an 11 x 14 inch frame. 
Limited Edition Print: Mat board will fit an 8 x 10 inch frame.
Both limited edition prints & original artwork are protected by a double layered, high quality, acid-free Crescent® brand mat board (4-ply, approximately .050 inch thick, with a beveled cut window opening). The mat board has a white top layer with a visible black layer underneath. For added protection artwork gets shipped with a standard white backing board, enclosed in a clear protective bag. Frame shown in product images not included.
Medium:

 
Original Artwork: Pigment archival ink on cold press acid free 300gsm paper.
Limited Edition Print: Superior quality digital print on 100% fine art cotton, acid free paper.
Authenticity: 
All Policies: