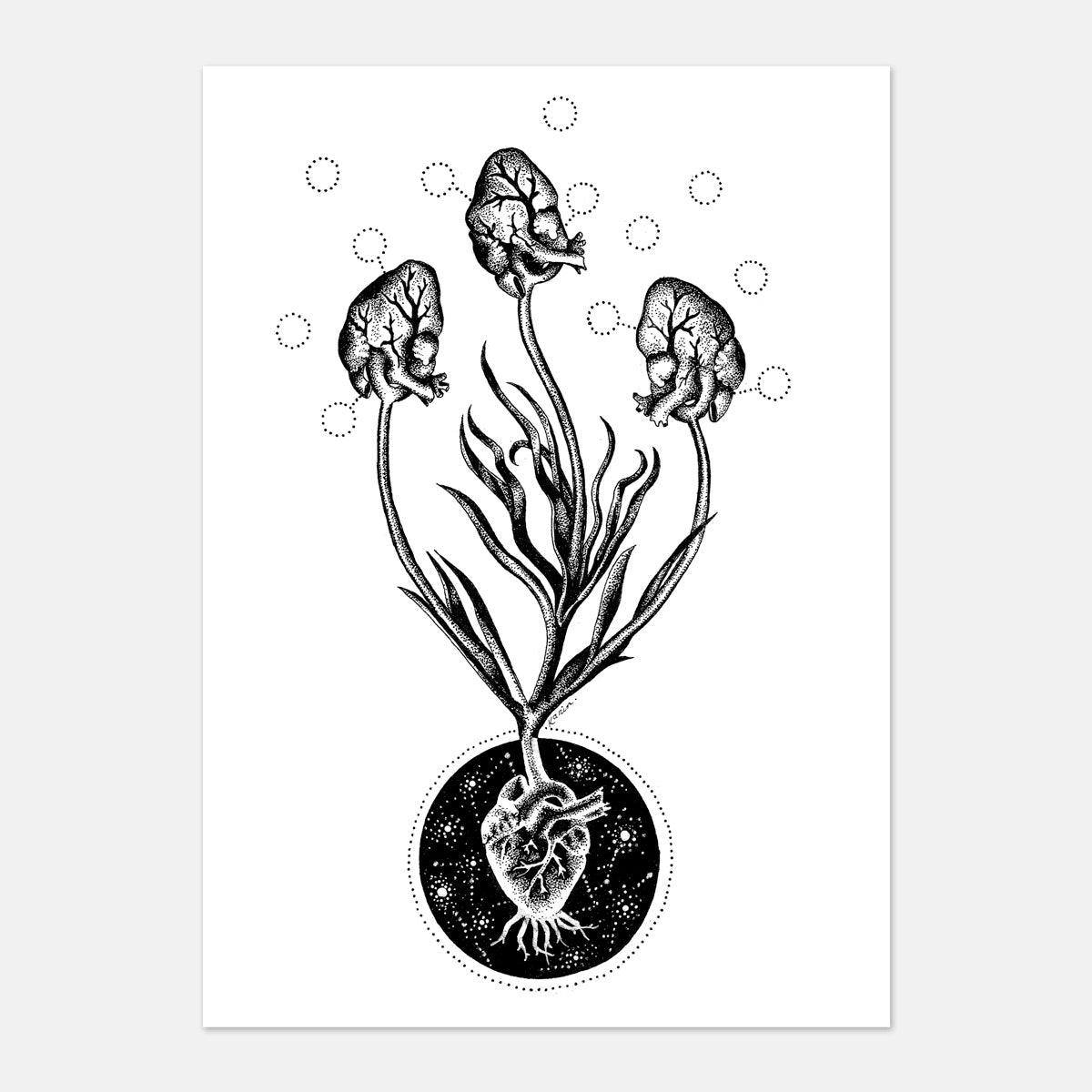 "Exchange Rate"
Print Or Original?:
Limited Edition Print
Only 44 units left
Prints: Limited edition of 50
About The Artwork:
This black and white illustration is called "Exchange Rate". It depicts a heart planted in the ground, with new hearts growing above the ground. At its core, it represents the power of love to generate new life and growth, even amid adversity and hardship.
The heart, of course, is a universal symbol of love and compassion, representing the center of our emotional and spiritual lives. When the heart is planted in the ground, it suggests a connection to the earth and the natural world, emphasizing the idea that love is rooted in our physical bodies and the world around us.
The three new hearts growing from the planted heart can represent the power of love to multiply and create new life. They also suggest that love is not a limited resource but rather an abundant one that can be shared and spread to others.
The number three has many symbolic meanings as well. It is often associated with creativity, growth, and manifestation. In many cultures, it is also considered a sacred number, representing the unity of the mind, body, and spirit.
"Out beyond ideas of wrongdoing and rightdoing there is a field. I'll meet you there.

When the soul lies down in that grass the world is too full to talk about."
― Rumi
Illustration Size: 
5 x 7 inches (portrait)
7 x 5 inches (landscape)
Mat Board Size:
Original Artwork: Mat board will fit an 11 x 14 inch frame. 
Limited Edition Print: Mat board will fit an 8 x 10 inch frame.
Both limited edition prints & original artwork are protected by a double layered, high quality, acid-free Crescent® brand mat board (4-ply, approximately .050 inch thick, with a beveled cut window opening). The mat board has a white top layer with a visible black layer underneath. For added protection artwork gets shipped with a standard white backing board, enclosed in a clear protective bag. Frame shown in product images not included.
Medium:

 
Original Artwork: Pigment archival ink on cold press acid free 300gsm paper.
Limited Edition Print: Superior quality digital print on 100% fine art cotton, acid free paper.
Authenticity: 
All Policies: