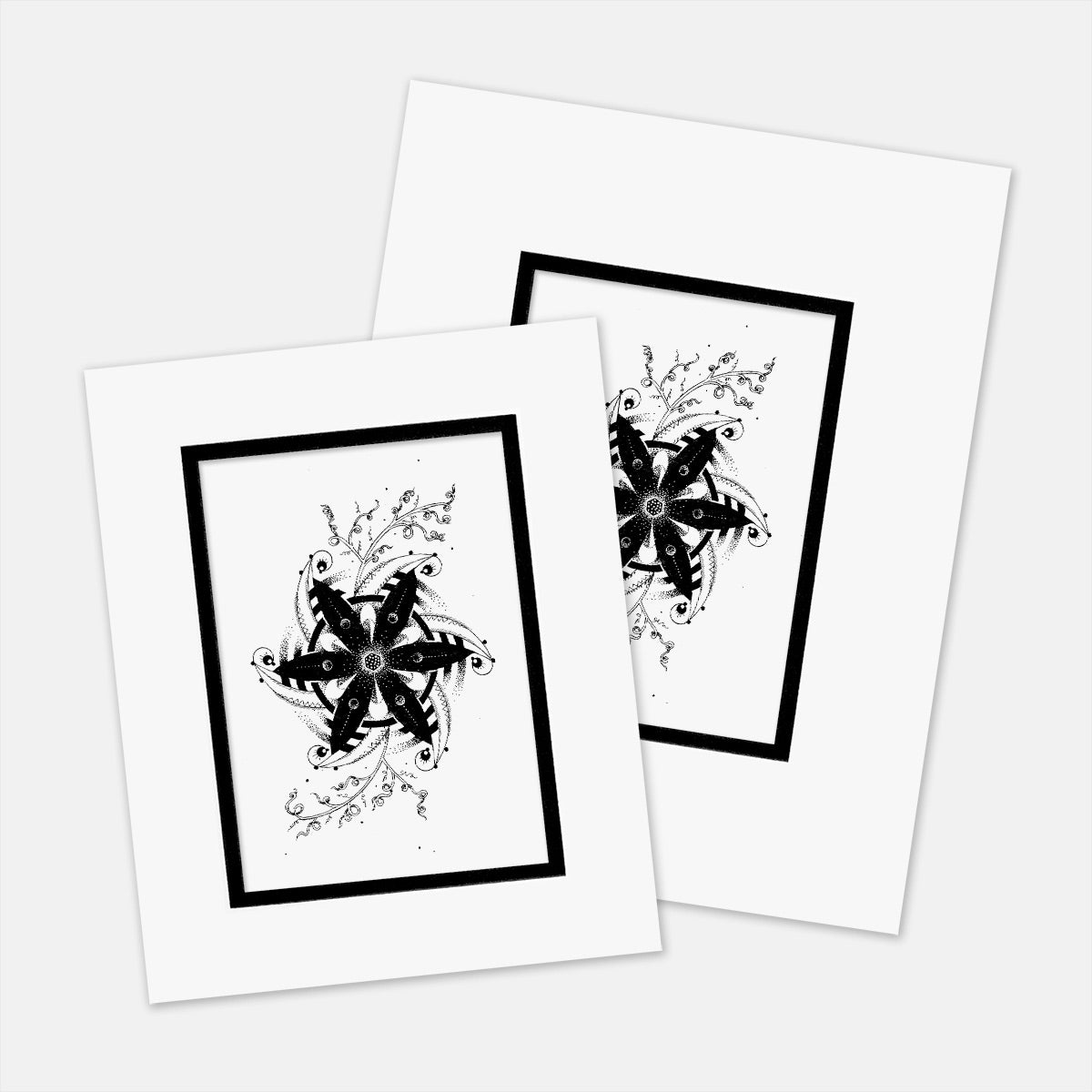 "Just Around The Corner"
Print Or Original?:
Limited Edition Print
Only 7 units left
Prints: Limited edition of 10
About The Artwork:
This black-and-white abstract illustration of a stylized flower surrounded by circles indicates movement with vines growing from the top and bottom. 
The image of a flower surrounded by circles, with two vines reaching out, can have different symbolic meanings depending on the context and the specific imagery. However, in general, the flower can represent growth, beauty, and renewal, while the circles can represent wholeness, completeness, and the cyclical nature of life. The two vines reaching out can symbolize connection, interdependence, and the idea of reaching for new opportunities and experiences.
Together, these symbols can convey a sense of harmony, balance, and interconnectedness, emphasizing the importance of staying connected to our roots while embracing new growth and possibilities. Overall, the image can be interpreted as a call to balance stability and development, to stay grounded and centered while remaining open to new experiences and opportunities.
Life continues, no matter how much we sometimes want it to slow down. Live in anticipation of the next unveiling, the next development, the next growth.
"And I will never again underestimate the power of anticipation. There is no better boost in the present than an invitation into the future." ― Caroline Kepnes
Illustration Size: 
5 x 7 inches (portrait)
7 x 5 inches (landscape)
Mat Board Size:
Original Artwork: Mat board will fit an 11 x 14 inch frame. 
Limited Edition Print: Mat board will fit an 8 x 10 inch frame.
Both limited edition prints & original artwork are protected by a double layered, high quality, acid-free Crescent® brand mat board (4-ply, approximately .050 inch thick, with a beveled cut window opening). The mat board has a white top layer with a visible black layer underneath. For added protection artwork gets shipped with a standard white backing board, enclosed in a clear protective bag. Frame shown in product images not included.
Medium:

 
Original Artwork: Pigment archival ink on cold press acid free 300gsm paper.
Limited Edition Print: Superior quality digital print on 100% fine art cotton, acid free paper.
Authenticity: 
All Policies: