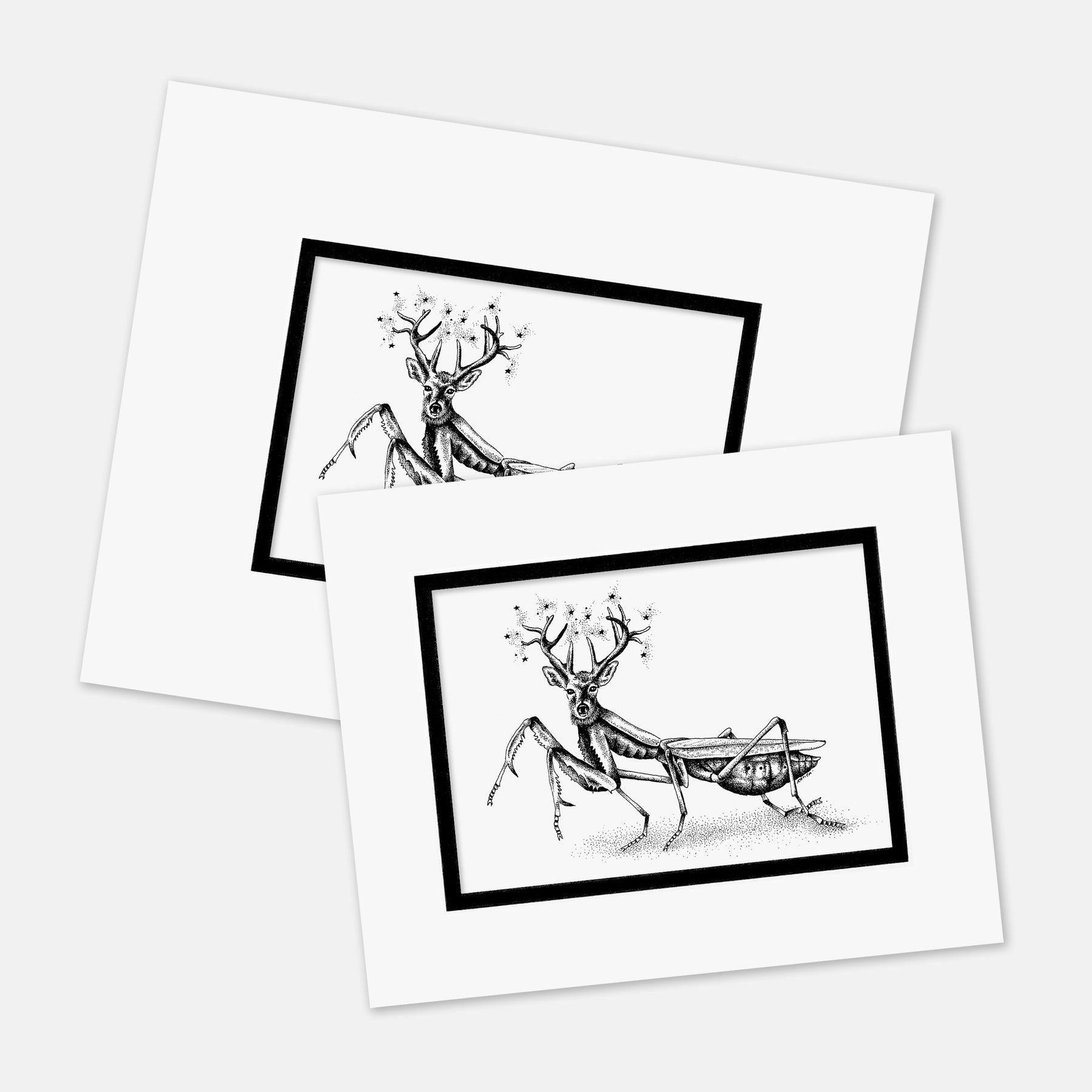 "Mantis Atlantis"
Print Or Original?:
Limited Edition Print
Only 19 units left
Prints: Limited edition of 25
About The Artwork: 
"Mantis Atlantis" is a surreal black-and-white illustration featuring an imaginative creature with the body of a praying mantis and the head of a majestic deer. A praying mantis and a deer are both animals that are rich in symbolic meaning, and their combination in an artwork or creative expression can create a powerful message.

The praying mantis is a symbol of stillness, patience, and mindfulness. It can represent the idea of waiting and observing, as the praying mantis waits for its prey to approach and then strikes with lightning-fast precision. The praying mantis can also represent the idea of balance and harmony, as it moves with grace and accuracy and can adapt to its environment.

The deer is a symbol of gentleness, grace, and intuition. It can represent the idea of sensitivity and awareness, as the deer can perceive danger and react quickly. The deer can also represent the idea of spiritual development and growth, as it is often associated with the heart chakra and the concept of unconditional love.

The image can represent being present in the moment and using intuition and sensitivity to navigate life. It can also mean finding balance and harmony in one's life by being patient and observing one's surroundings.
"It's like everyone tells a story about themselves inside their own head. Always. All the time. That story makes you what you are. We build ourselves out of that story." ― Patrick Rothfuss
Illustration Size: 
5 x 7 inches (portrait)
7 x 5 inches (landscape)
Mat Board Size:
Original Artwork: Mat board will fit an 11 x 14 inch frame. 
Limited Edition Print: Mat board will fit an 8 x 10 inch frame.
Both limited edition prints & original artwork are protected by a double layered, high quality, acid-free Crescent® brand mat board (4-ply, approximately .050 inch thick, with a beveled cut window opening). The mat board has a white top layer with a visible black layer underneath. For added protection artwork gets shipped with a standard white backing board, enclosed in a clear protective bag. Frame shown in product images not included.
Medium:

 
Original Artwork: Pigment archival ink on cold press acid free 300gsm paper.
Limited Edition Print: Superior quality digital print on 100% fine art cotton, acid free paper.
Authenticity: 
All Policies: