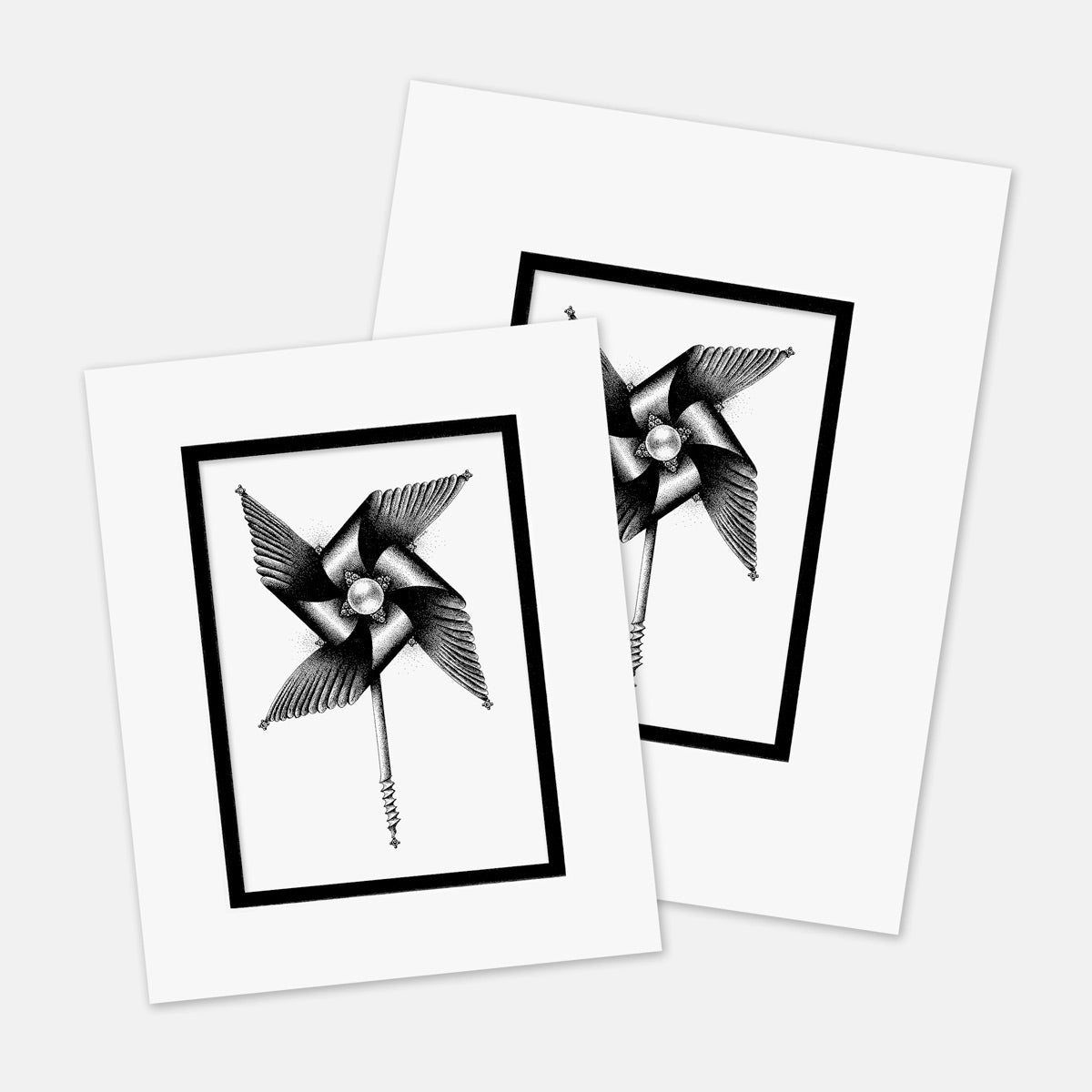 "Pinned Pearl"
Print Or Original?:
Limited Edition Print
Only 48 units left
Prints: Limited edition of 50
About The Artwork: 
"Pinned Pearl" is a surreal black-and-white illustration featuring a pinwheel with a screw, wings with feathers, and, most notably, an eye-catching pearl surrounded by diamonds in the middle.

The symbolism of a pinwheel can represent change, transformation, and movement. As the pinwheel spins, it suggests a dynamic and ever-changing nature that can be both exhilarating and unpredictable. The pinwheel can also represent the passage of time, as it marks the passing of seconds and minutes with each rotation.

The symbolism of wings can represent freedom, transcendence, and spirituality. As wings allow birds and other creatures to fly and soar above the limitations of the earth, they can be seen as a symbol of transcendence and spiritual elevation. Wings can also represent freedom and independence, allowing creatures to move and explore their environment in new and exciting ways.

The symbolism of a pearl can represent purity, wisdom, and feminine energy. As a symbol of purity, the pearl suggests a sense of innocence and perfection often associated with feminine beauty and grace. Pearls can also represent wisdom and enlightenment, formed through transformation and growth, often seen as a metaphor for personal growth and self-discovery.

The symbolism of a pinwheel, wings, and a pearl may suggest a combination of movement, freedom, and spiritual growth. Together, these symbols can serve as a reminder of the many different qualities and values needed to navigate life's challenges with grace and resilience.
"My heart resembles the ocean; has storm, and ebb and flow; and many a beautiful pearl lies hid in its depths below." — Heinrich Heine
Illustration Size: 
5 x 7 inches (portrait)
7 x 5 inches (landscape)
Mat Board Size:
Original Artwork: Mat board will fit an 11 x 14 inch frame. 
Limited Edition Print: Mat board will fit an 8 x 10 inch frame.
Both limited edition prints & original artwork are protected by a double layered, high quality, acid-free Crescent® brand mat board (4-ply, approximately .050 inch thick, with a beveled cut window opening). The mat board has a white top layer with a visible black layer underneath. For added protection artwork gets shipped with a standard white backing board, enclosed in a clear protective bag. Frame shown in product images not included.
Medium:

 
Original Artwork: Pigment archival ink on cold press acid free 300gsm paper.
Limited Edition Print: Superior quality digital print on 100% fine art cotton, acid free paper.
Authenticity: 
All Policies: