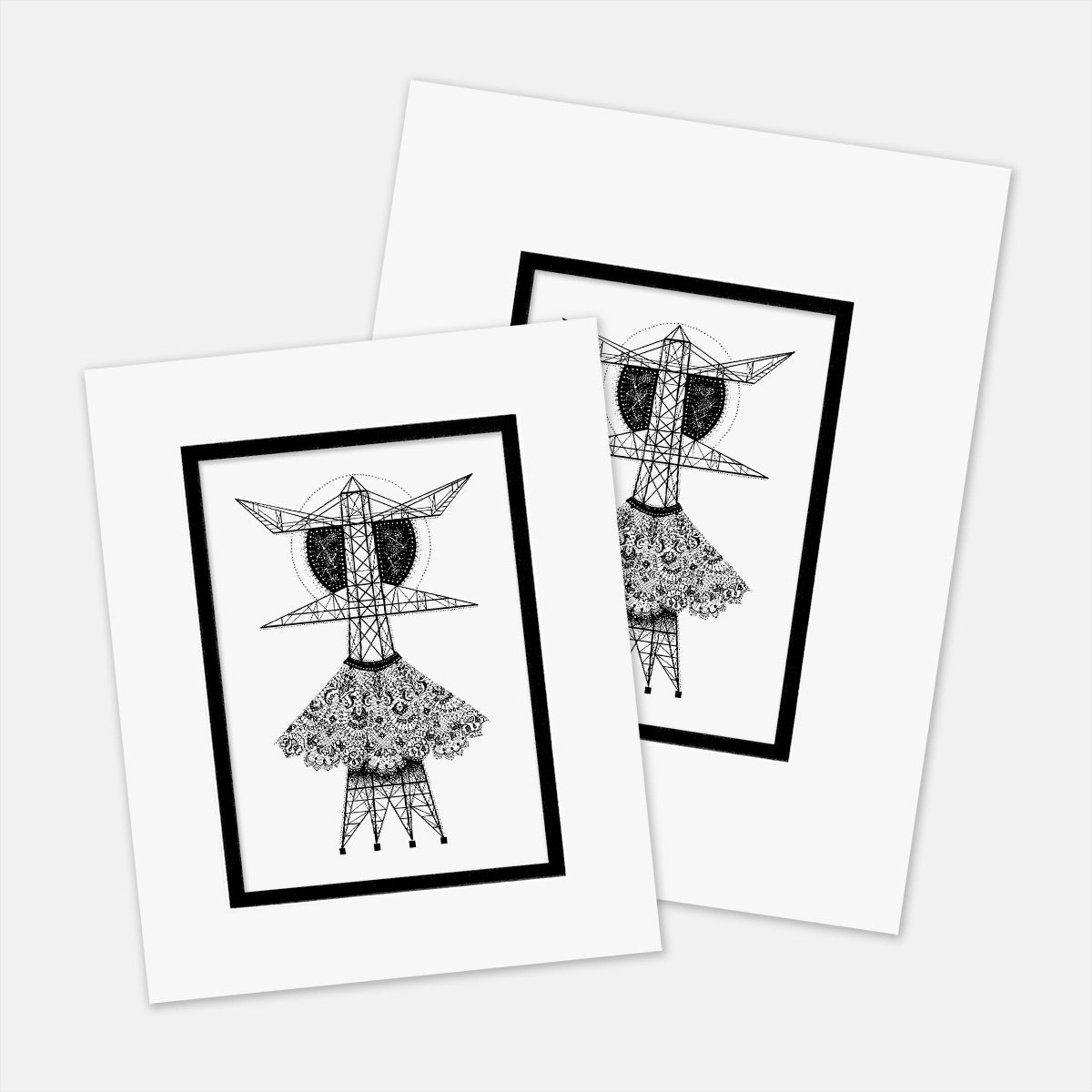 "Power Move"
Print Or Original?:
Limited Edition Print
Only 46 units left
Prints: Limited edition of 50
About The Artwork:
Be mesmerized by the beauty of "Power Move," a surreal black-and-white illustration that features a power station wearing a delicate lace ballerina skirt with an enchanting constellation gleaming behind it.

A power station may represent the modern world and its reliance on technology, industry, and electricity. It may symbolize the ability to harness and control the forces of nature and the potential for progress and development. It also suggests power and strength.

A lace ballerina skirt may represent grace, delicacy, femininity, and the artistry and skill required to create intricate designs. It may also symbolize the importance of beauty and aesthetics and the power of self-expression and creativity.

The constellation behind the power station and the ballerina skirt may suggest a connection between the natural world and the human-made world. The stars and planets may represent the cosmos, the mysteries of the universe, and the infinite possibilities for exploration and discovery. The constellation may also suggest a sense of order and harmony and the interconnectedness of all things.

The symbolism in this illustration may suggest a tension between progress and tradition, technology and nature, and the masculine and feminine. 
"The creation of something new is not accomplished by the intellect but by the play instinct acting from inner necessity. The creative mind plays with the objects it loves." — Carl Jung
Illustration Size: 
5 x 7 inches (portrait)
7 x 5 inches (landscape)
Mat Board Size:
Original Artwork: Mat board will fit an 11 x 14 inch frame. 
Limited Edition Print: Mat board will fit an 8 x 10 inch frame.
Both limited edition prints & original artwork are protected by a double layered, high quality, acid-free Crescent® brand mat board (4-ply, approximately .050 inch thick, with a beveled cut window opening). The mat board has a white top layer with a visible black layer underneath. For added protection artwork gets shipped with a standard white backing board, enclosed in a clear protective bag. Frame shown in product images not included.
Medium:

 
Original Artwork: Pigment archival ink on cold press acid free 300gsm paper.
Limited Edition Print: Superior quality digital print on 100% fine art cotton, acid free paper.
Authenticity: 
All Policies: