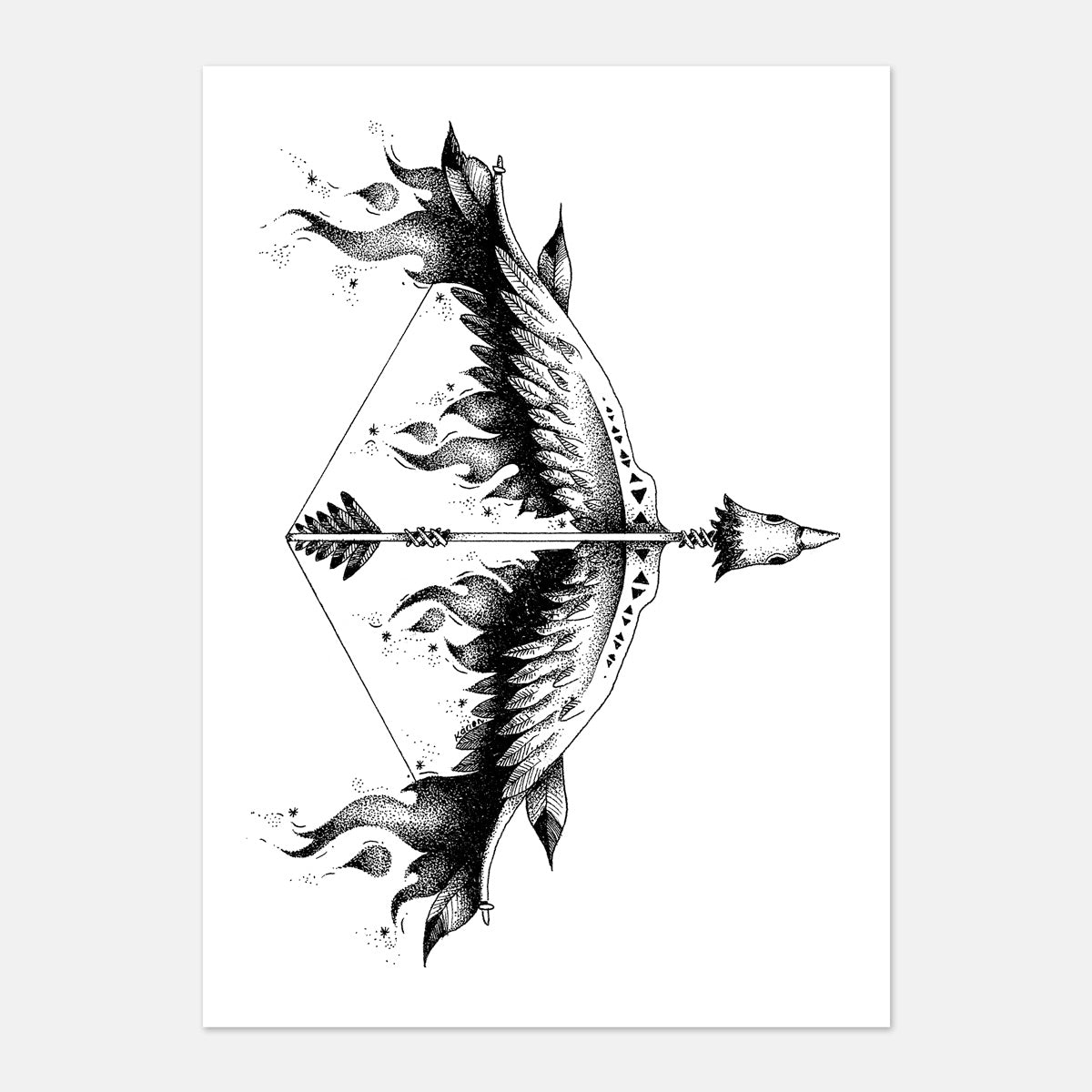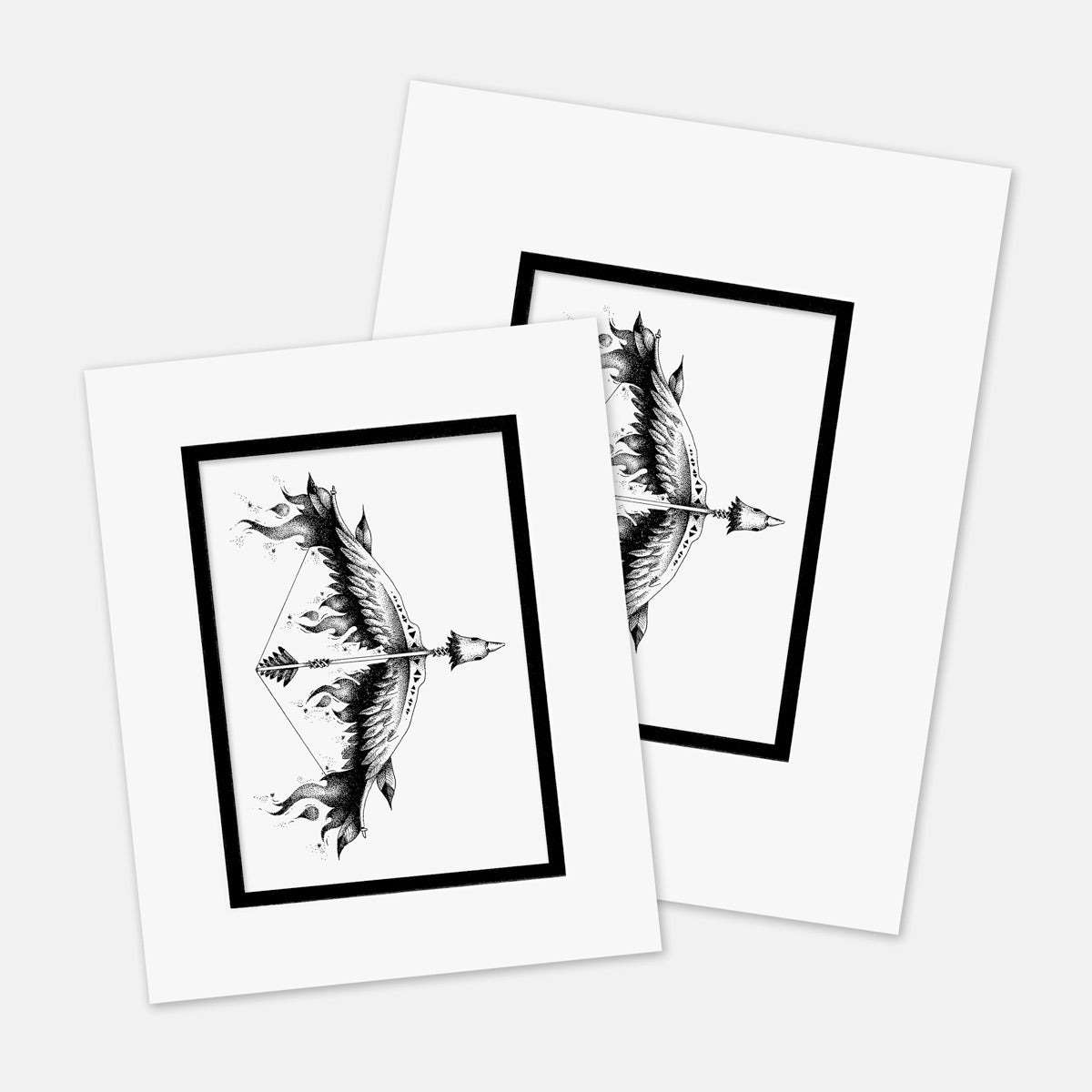 "Release, Run, Retrieve, Repeat"
Print Or Original?:
Limited Edition Print
Only 47 units left
Prints: Limited edition of 50
About The Artwork: 
"Release, Run, Retrieve, Repeat" is a surreal black-and-white illustration that captures the power of flight and freedom. Featuring a bow and arrow with the head of an eagle and flames coming out of its wings, this artwork invites viewers to take part in a journey toward self-discovery.

The arrow represents focus, direction, and a sense of purpose, as it is aimed toward a specific target. The bow symbolizes strength, resilience, and the ability to bend without breaking. Together, the bow and arrow represent the balance of power and control and the idea of achieving one's goals through focused effort and skill. In some cultures, the bow and arrow represent spiritual growth and development, as the archer must cultivate discipline and self-awareness to accurately hit their mark.

In many spiritual traditions, feathers symbolize communication with the divine or spiritual realms, as they are believed to be a vehicle for messages from the spirit world. When feathers are depicted as flames, this can be seen as a powerful representation of transformation and purification. Fire is often associated with the burning away of old or negative energies to make way for new growth and vitality. Feathers that look like flames can be seen as a symbol of change, rebirth, and the transformative power of spiritual growth.

In Native American cultures, feathers with flame-like designs are sometimes associated with the Phoenix. This mythical bird is reborn from its ashes, symbolizing resurrection, regeneration, and triumph over adversity.

Together, these elements may represent the pursuit of one's goals with the unwavering focus and strength of an eagle fueled by passion and intensity.
"And this I believe: that the free, exploring mind of the individual human is the most valuable thing in the world. And this I would fight for: the freedom of the mind to take any direction it wishes, undirected. And this I must fight against: any idea, religion, or government which limits or destroys the individual. This is what I am and what I am about." — John Steinbeck
I see power (strength), streamlined, speed, sight & hunger. It also reminds me of Native America, Wild West & the desert. - Henry P.

I see potential. I see a bow and arrow that are uniquely skilled and crafted to do one job, hit the target. And yet they are powerless by themselves. They need the strong arms of a powerful archer to aim them and release them. - Robert C (www.arrows.church)
Illustration Size: 
5 x 7 inches (portrait)
7 x 5 inches (landscape)
Mat Board Size:
Original Artwork: Mat board will fit an 11 x 14 inch frame. 
Limited Edition Print: Mat board will fit an 8 x 10 inch frame.
Both limited edition prints & original artwork are protected by a double layered, high quality, acid-free Crescent® brand mat board (4-ply, approximately .050 inch thick, with a beveled cut window opening). The mat board has a white top layer with a visible black layer underneath. For added protection artwork gets shipped with a standard white backing board, enclosed in a clear protective bag. Frame shown in product images not included.
Medium:

 
Original Artwork: Pigment archival ink on cold press acid free 300gsm paper.
Limited Edition Print: Superior quality digital print on 100% fine art cotton, acid free paper.
Authenticity: 
All Policies: