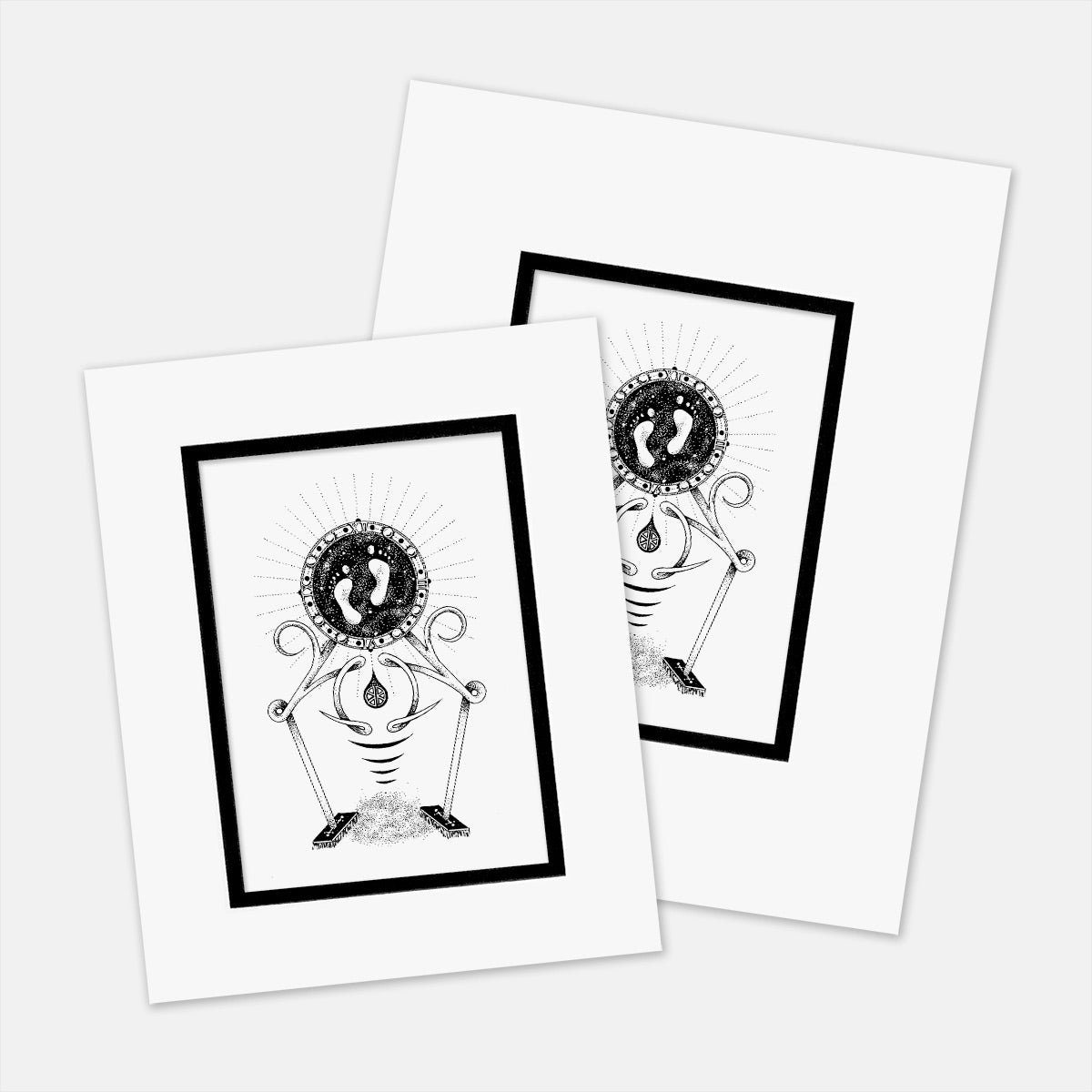 "Sweeping Expanse"
Print Or Original?:
Limited Edition Print
Only 47 units left
Prints: Limited edition of 50
About The Artwork: 
Introducing "Sweeping Expanse," a surreal black-and-white illustration that brings together the beauty of an infinite universe and the mundane. At its center, a clock containing a galaxy is surrounded by two brooms gently sweeping away ash or dust into the void below. Vines hang from above, dripping liquid onto this strange yet mesmerizing scene.
The clock symbolizes time, representing the passage of hours, days, and years. It can be seen as a reminder that time is constantly moving forward and that each moment is precious. The clock could also represent the rhythm of life, with each tick and tock reminding us of the importance of balance and harmony.
On the other hand, the galaxy symbolizes the universe and the vastness of space. It represents the unknown and the mysteries of existence, suggesting that there is more to life than we can see or comprehend. The galaxy could also represent the interconnectedness of all things, as each star and planet is part of a larger whole.
The footprints in the image suggest movement and progress. They could represent a journey or a path we are following, reminding us that each step we take impacts the world around us. The footprints could also represent a legacy, as each step we take leaves a mark on the world that we will one day leave behind.
Putting these symbols together, we can see the clock containing a galaxy and footprints as an image of time, space, and progress. It suggests that each moment is a step on a journey that is part of a larger whole.
"We came whirling out of nothingness, scattering stars like dust... The stars made a circle, and in the middle, we dance." — Rumi
"Footprints represent the slog of labor. Always the domestic chores of sweeping the studio….on the feet as time burns away." — Travis Apel, Omaha
Illustration Size: 
5 x 7 inches (portrait)
7 x 5 inches (landscape)
Mat Board Size:
Original Artwork: Mat board will fit an 11 x 14 inch frame. 
Limited Edition Print: Mat board will fit an 8 x 10 inch frame.
Both limited edition prints & original artwork are protected by a double layered, high quality, acid-free Crescent® brand mat board (4-ply, approximately .050 inch thick, with a beveled cut window opening). The mat board has a white top layer with a visible black layer underneath. For added protection artwork gets shipped with a standard white backing board, enclosed in a clear protective bag. Frame shown in product images not included.
Medium:

 
Original Artwork: Pigment archival ink on cold press acid free 300gsm paper.
Limited Edition Print: Superior quality digital print on 100% fine art cotton, acid free paper.
Authenticity: 
All Policies: